New England Fan Fest 9 is delighted to announce that basketball Hall of Famer and professional wrestler Dennis Rodman has signed to appear at the show on February 17 at the Crowne Plaza Providence-Warwick.
Summing up Rodman's career in a couple of paragraphs is almost impossible. The Worm shot to fame as an NBA Superstar, first with the Detroit Pistons and then with the Chicago Bulls. He is a five-time NBA Champion, a seven-time NBA All-Defensive First Team selection, and he was named to the NBA's 75th Anniversary Team (the best 75 players of all time). He became a household name alongside Michael Jordan and Scottie Pippen on the Bulls team that threepeated from 1996-1998, and he is widely regarded as the best rebounding forward in the league's history.
Rodman was loved and hated in the NBA for his loud, flamboyant, bad-boy attitude. This was a perfect fit for professional wrestling, with Rodman being drafted into WCW by his friend Hulk Hogan at the height of his fame in 1997. Rodman could have collected an easy paycheck, but that wasn't his style, and he worked hard to learn the wrestling trade as WCW became the hottest product on TV in the late '90s.
Rodman joins an ever-growing list of superstars signed to appear at New England Fan Fest 9. He will be joined by trailblazing women's wrestling icon Trish Stratus and iconic WCW and WWF/E Superstar Ron 'Farooq' Simmons, with more Superstars set to be announced in the coming weeks. Watch this space for more press releases as legends of the industry ink their names for the show!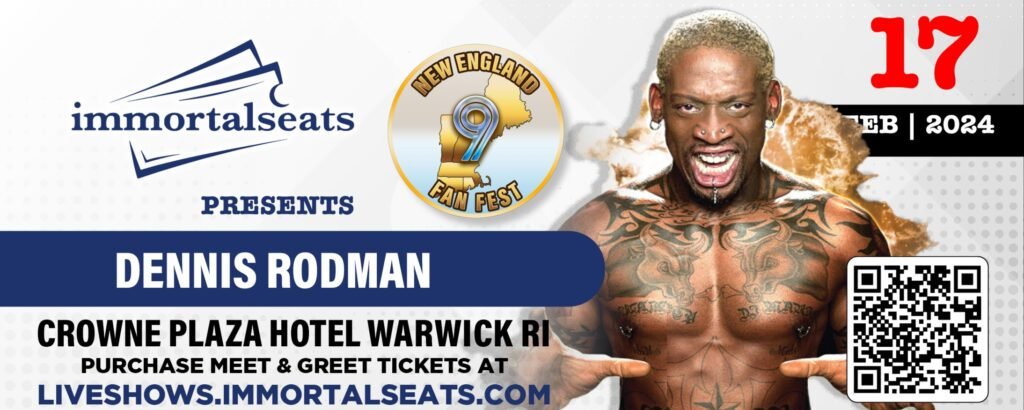 Immortal Seats was founded in 2014 in New Jersey and has been part of the ticket resale space for almost a decade. Immortal Seats is the leader in selling sports, concerts, and theater tickets with no fees on all orders and an industry-leading 200% guarantee on tickets sold. Tickets can be purchased through the mobile app, downloaded at immortaltixs.com, or on a computer at liveshows.immortalseats.com.